[caption id="attachment_9068" align="aligncenter" width="640"]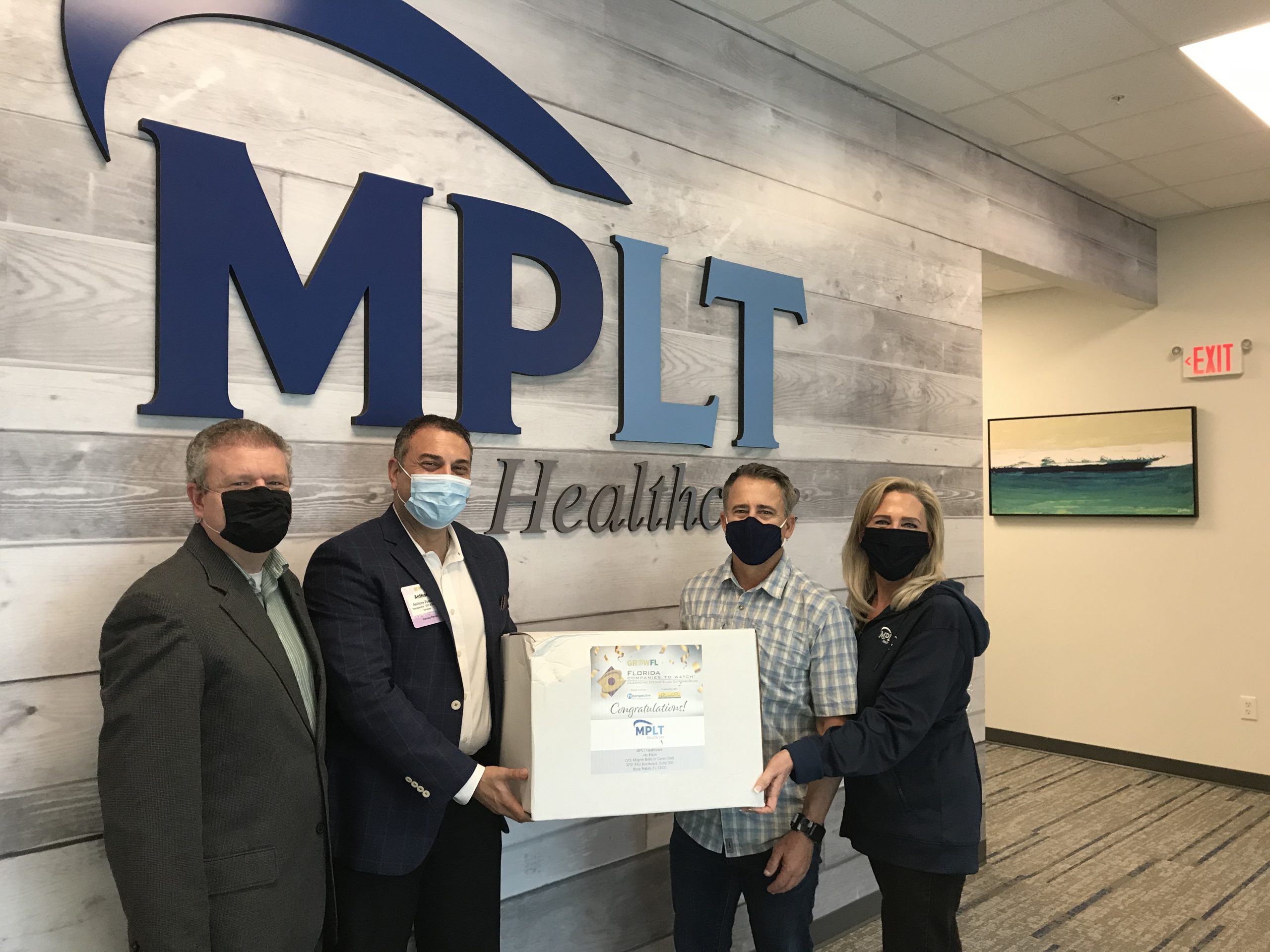 Pictured: Andrew Duffell, President, Research Park, FAU; Anthony Foscolos, Area Manager South Florida, Nperspective CFO & Strategic Services; Jay Mays, CEO, MPLT Healthcare; Liz Hale, President, MPLT Healthcare[/caption]
Boca Raton, Fla. (February 23, 2021) – MPLT Healthcare, a leading locum tenens healthcare staffing company, has been listed among the top 50 second-stage companies in Florida selected as 2020 GrowFL Florida Companies to Watch honorees. This statewide competition identifies companies expected to see significant growth over the next several years.
Jay Mays, CEO and Founder of MPLT Healthcare, commented, "We are honored that our company has been chosen as a 2020 GrowFL Florida Companies to Watch Honoree. We have an exceptional team here at MPLT Healthcare that has risen to the challenges posed by the pandemic in order to achieve this success. None of it would have been possible without our employees working relentlessly to provide world-class service to our clients and providers despite the obstacles posed by the changing healthcare landscape. We are proud to be making an impact on Florida's rising economy through our contributions to the growth of essential healthcare services in the region. MPLT Healthcare is eager to continue delivering trusted, qualified providers to the facilities and clinics who need them most."
82 finalists were announced in 2020, and the 50 honorees were selected after a final round of judging by a panel of independent judges comprised of past honorees, economic development leaders and corporate partners of GrowFL. Companies were judged on a number of criteria including: growth in number of employees; impact of the business in the job market; increase in sales and/or unit volume; current and past financial reports; innovativeness of the product or service; response to adversity; and contributions to aid community-oriented projects.
"These stand-out companies are all led by entrepreneurs, and have demonstrated not only their willingness to grow, but their capacity to do it successfully," said Dr. Tom O'Neal, GrowFL Founder.  "They are all positioned to make a significant impact on Florida's economy with their products, services, critical intellectual property or a niche position that gives them a competitive edge in their markets. These business owners demonstrate strong leadership, philanthropic involvement, perseverance and all it means to be an entrepreneur."
The 2020 GrowFL Florida Companies to Watch awards celebration was presented by Nperspective CFO & Strategic Services, in association with the Edward Lowe Foundation. Companies to Watch was developed by the Edward Lowe Foundation as a unique way to recognize and honor second-stage companies that demonstrate high performance in the marketplace with innovative strategies and processes, making them "worth watching." GrowFL received more than 400 nominations for the award.
"The 50 second-stage companies named as GrowFL Florida Companies to Watch Honorees reflect the exceptional leaders who are making a difference in growing and diversifying the state of Florida," said Jennifer Barrows, Chairman of the GrowFL Advisory Board and Business Development Executive with Withum. "Second-stage companies are defined as those with 6 to 150 full-time employees and between $750,000 and $100 million in annual revenue. As the only organization in Florida that focuses exclusively on this state of business, GrowFL works to develop program specifically to support and celebrate them."
From 2016 through 2019, these companies generated $813 million in revenue and added 668 employees, reflecting a 103% increase in revenue and 113% increase in jobs for the four-year period. That translates into a 27% average annual revenue growth and 20% average annual growth in employees.
The companies named to the list were officially recognized at the 10th Annual GrowFL Florida Companies to Watch Celebration on February 18, 2021 at the Hammock Beach Resort and Spa in Palm Coast, FL. To learn more, please visit https://growfl.com.
About MPLT Healthcare
With years of healthcare and physician staffing experience, MPLT Healthcare has the knowledge, resources and proven industry commitment to help facilities meet the increasing demands of today's rapidly changing healthcare landscape. We specialize in placing highly qualified physicians and advanced practice clinicians in locum, locum-to-perm and direct hire staff positions. We will always be people helping people as we strive to earn the long-term loyalty of our clients, providers and employees through our dedication to selfless service, a relentless focus on quality and a culture of excellence. For more information, please visit mplthealthcare.com.
About GrowFL:
GrowFL is dedicated to support and accelerate the growth of second-stage companies throughout Florida, by providing their leaders focused, efficient, and timely access to resources they deem important, such as connections with other second-stage company leaders, and to professional organizations whose expertise, experience, and products lead to the second-stage company's continued growth and prosperity resulting in diversification and growth of Florida's economy.  GrowFL Florida Companies to Watch celebrates growing second-stage companies headquartered in Florida. Companies to Watch was developed by the Edward Lowe Foundation as a unique way to recognize and honor second-stage companies that demonstrate high performance in the marketplace with innovative strategies and processes, making them "worth watching." Presented by GrowFL, in association with Edward Lowe Foundation, Florida Companies to Watch is an awards program like no other.  Website: https://www.growfl.com/flctw20/about-flctw
About the Edward Lowe Foundation:
Established in 1985, the Edward Lowe Foundation is a national, nonprofit organization that supports entrepreneurship through research, recognition and educational programs, which are delivered through entrepreneur support organizations (ESOs).  The foundation focuses on second-stage companies — those that have moved beyond the startup phase and seek significant, steady growth. In addition, the foundation has a second mission of land stewardship and is committed to preserving the natural resources and historically significant structures at Big Rock Valley, its 2,000-acre home in southwest Michigan.
About Nperspective:
Nperspective CFO & Strategic Services, a Florida firm, operates around the country from centers in Orlando, Tampa, and South Florida. The firm was founded 20 years ago to assist small- and medium-sized businesses that need the expertise of seasoned financial executives but are unable to hire that expertise full-time. Many highly profitable companies that could afford a full-time CFO don't need one daily.  To assist these companies, the firm provides senior executives with extensive financial expertise and experience on an as-needed basis, calibrating engagements to specific client needs and resources. Nperspective CFOs provide services such as cash flow planning, strategic planning/business planning/budgeting, assistance with bank financing, reviewing financial reporting processes and internal control processes for effectiveness. With a 20-year track record, Nperspective is ready to help companies mitigate the problems of Covid-19 from loan and grant applications to managing finances under the new normal.  Website: https://www.nperspective.com