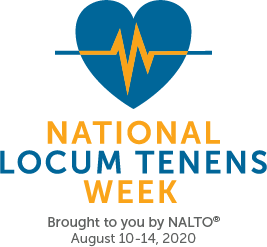 Boca Raton, Fla. (August 10, 2020) – MPLT Healthcare is honoring locum tenens providers by joining the National Association of Locum Tenens Organizations® (NALTO®) and the healthcare industry at large in recognition of National Locum Tenens Week, August 10-14.
Jay Mays, CEO of MPLT Healthcare, commented, "This year has been quite challenging, especially for everyone in the healthcare industry. That's why National Locum Tenens Week is the perfect time to take a moment and recognize the vital role locum tenens providers play in ensuring that patients receive the care they need. Our locum tenens physicians, CRNAs, physician assistants, nurse practitioners, and other providers have undertaken heroic efforts during this crucial time and we are truly thankful for everything they have done. Our team recognizes the sacrifices locum tenens providers make in order to provide essential care to those who need it most. That's why we are immensely grateful for the courage and dedication these providers exhibit every time they go into work."
The MPLT Healthcare team has prided itself on a continued dedication to selfless service while supporting the critical needs of the nation's providers and healthcare facilities during the coronavirus pandemic. The company's team members have been working around the clock to match providers with needs around the country and will continue to provide that support as part of MPLT Healthcare's commitment to caring for the nation.
National Locum Tenens Week occurs annually the second week in August. Led by the National Association of Locum Tenens Organizations® (NALTO®), the program's annual platform provides a forum to collectively recognize locum tenens doctors and the contributions made by staffing agencies to the U.S. healthcare industry.
About NALTO®
The National Association of Locum Tenens Organizations® (NALTO®) is the only professional association of temporary physician staffing firms committed to a code of ethics and to maintaining the highest industry standards. Learn more at www.NALTO.org.
About MPLT Healthcare
With years of healthcare and physician staffing experience, MPLT Healthcare has the knowledge, resources and proven industry commitment to help facilities meet the increasing demands of today's rapidly changing healthcare landscape. We specialize in placing highly qualified physicians and advanced practice clinicians in locum, locum-to-perm and direct hire staff positions. We will always be people helping people as we strive to earn the long-term loyalty of our clients, providers and employees through our dedication to selfless service, a relentless focus on quality and a culture of excellence. For more information, please visit mplthealthcare.com.