From being named one of the Best Staffing Firms to Work For to our Best of Staffing Talent Award, we're proud of our accomplishments! We strive to empower our employees and because of this we've created a workplace often recognized as having exemplary culture.
See more of what we've been up to in the workplace and outside of MPLT Healthcare, by heading over to our culture page.
To learn more about working with MPLT Healthcare, contact us today.
2020
2020 GrowFL Florida Companies to Watch Honoree
ClearlyRated's 2020 Best of Staffing® Client Award
ClearlyRated's 2020 Best of Staffing® Talent Award
Modern Healthcare's 2020 Best Places to Work in Healthcare
South Florida Business Journal's Best Places to Work – Ranked #6
South Florida Business Journal's Fast 50
South Florida Business Journal's Temporary Personnel & Staffing Agencies list – Ranked #9
South Florida Business Journal's Top 100 Private Companies List
Staffing Industry Analysts' 2020 Best Staffing Firms to Work For Award
Staffing Industry Analysts' 2020 Fastest-Growing Staffing Firms – Ranked #24
Staffing Industry Analysts' 2020 Largest Locum Tenens Staffing Firms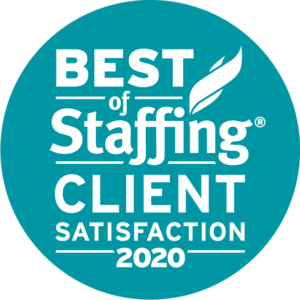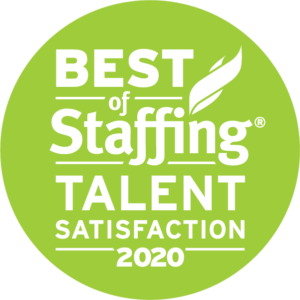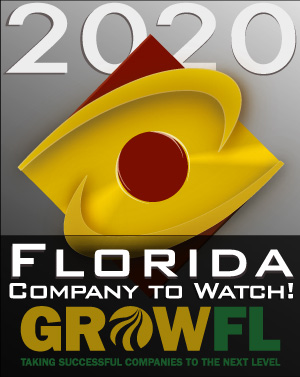 2019
ClearlyRated's 2019 Best of Staffing® Client Award
ClearlyRated's 2019 Best of Staffing® Talent Award
Inc. 5000 List for 2019 – Ranked #1811
Modern Healthcare's 2019 Best Places to Work in Healthcare
South Florida Business Journal's Best Places to Work
South Florida Business Journal's Fast 50 – Ranked #6
South Florida Business Journal's Top 100 Private Companies
Staffing Industry Analysts' 2019 Best Staffing Firms to Work For Award
Staffing Industry Analysts' 2019 Fastest-Growing Staffing Firms – Ranked #7
Staffing Industry Analysts' 2019 Largest Locum Tenens Staffing Firms – Ranked #15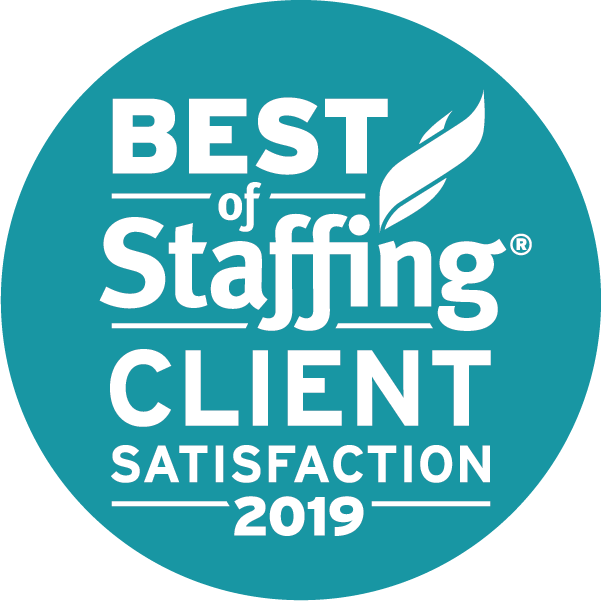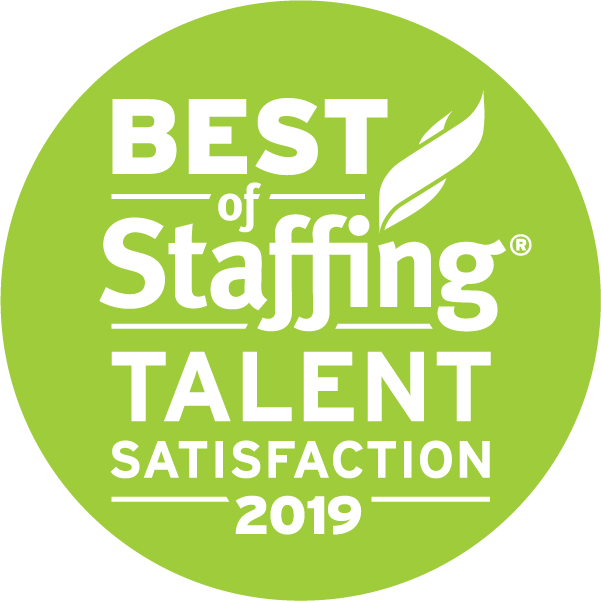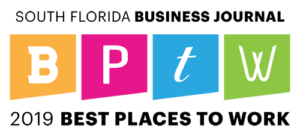 2018
2018 South Florida Business Journal Best Places to Work Honoree
Inavero's 2018 Best of Staffing Client Award
Inavero's 2018 Best of Staffing Talent Award
Modern Healthcare's 2018 Best Places to Work in Healthcare
Listed among the 2018 Largest Staffing Firms in the U.S. by Staffing Industry Analysts
South Florida Business Journal's Top 100 Private Companies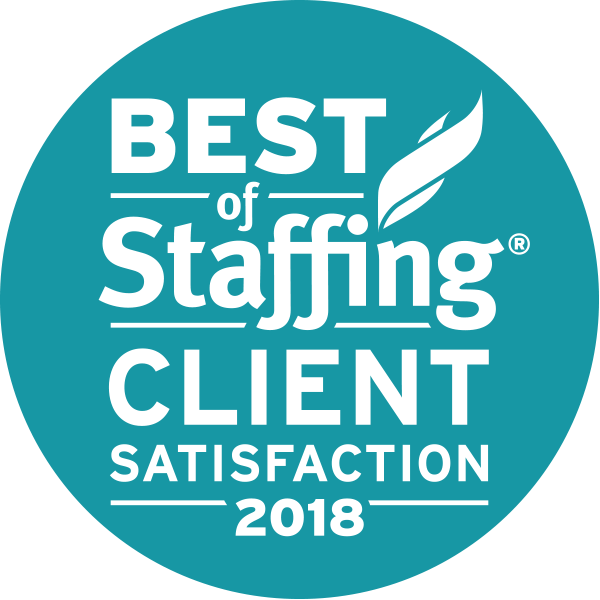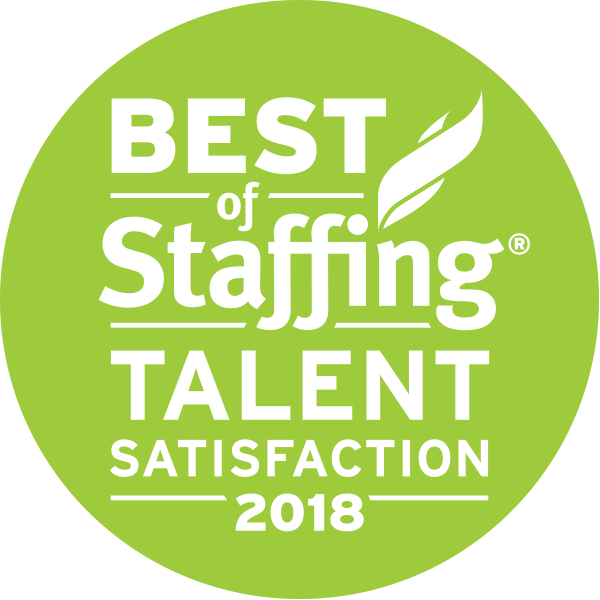 2017
Listed #20 on Modern Healthcare's 2017 Best Places to Work in Healthcare
Listed among the 2017 Fastest-Growing US Staffing Firms in the U.S. by Staffing Industry Analysts
Listed among the 2017 Largest Healthcare Staffing Firms in the U.S. List by Staffing Industry Analysts
Named one of the Best Staffing Firms to Work For in the U.S. by Staffing Industry Analysts
Received Inavero's 2017 Best of Staffing Talent Award
Named on South Florida Business Journal's Temporary Personnel & Staffing Agencies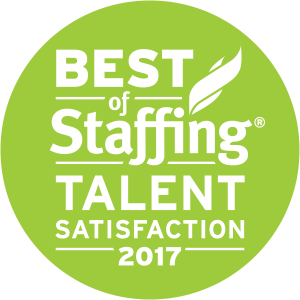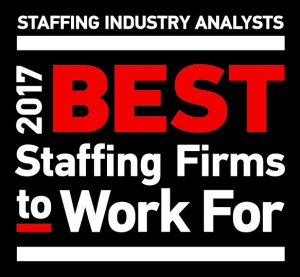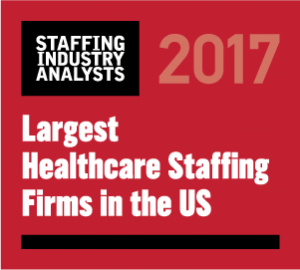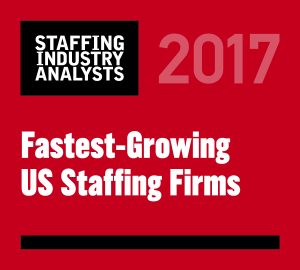 2016
Named one of the Best Staffing Firms to Work For in the U.S. by Staffing Industry Analysts
Named one of the Fastest Growing Staffing Firms in the U.S. by Staffing Industry Analysts
Named one of the Largest Staffing Firms in the U.S. by Staffing Industry Analysts
Named one of the Largest Healthcare Staffing Firms in the U.S. by Staffing Industry Analysts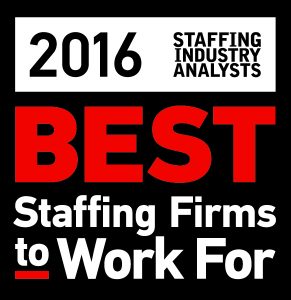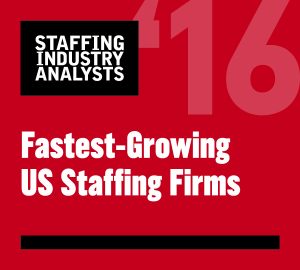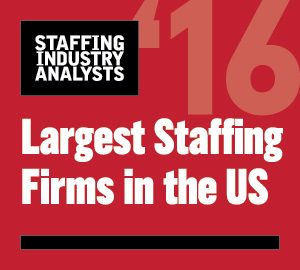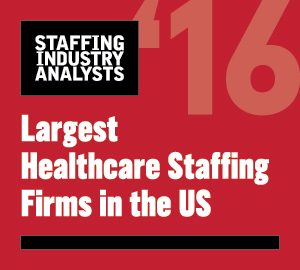 2015
Named one of the Fastest-Growing Staffing Firms in the U.S. by Staffing Industry Analysts
Named one of the Largest Healthcare Staffing Firms in the U.S. by Staffing Industry Analysts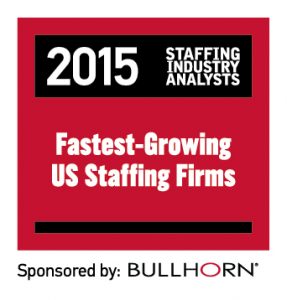 2014
Named one of the Fastest Growing Staffing Firms in the U.S. by Staffing Industry Analysts
Named one of the Largest Staffing Firms in the U.S. by Staffing Industry Analysts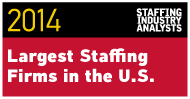 2013
Named one of the Fastest Growing Private Staffing Firms in the U.S. by Staffing Industry Analysts
Named one of the Best Staffing Firms to Work For by Staffing Industry Analysts