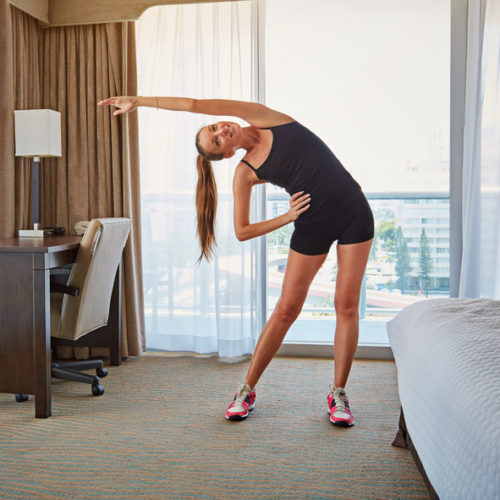 If you're a busy healthcare professional, you may be letting physical fitness fall by the wayside while on the road for locum tenens assignments. Finding the time and motivation to exercise while maintaining your career can certainly be challenging. However, there are many ways you can stay fit while away on locum tenens jobs. Check out these easy, yet effective tips so you can start incorporating into your daily routine:
Establish a daily workout regimen. If your locum tenens shifts are constantly changing, it can be difficult to commit to weekly fitness classes or sessions with a trainer. Consider establishing a daily workout routine which you can do right from your apartment or hotel room. Some easy exercises you can do on your own include yoga, aerobics or pilates. With hundreds of free workout videos available online, you can choose a routine that's easy to follow and do within the comforts of your own living space!
Walk whenever possible. If you're in a city, there are likely many places near your apartment or hotel you can walk to rather than take a car or public transportation. If you have the option to walk to work, do it! Even though you'll have to build in extra time in your day, you'll burn calories and feel better after getting your steps in. During your time off, consider walking in a nearby park to enjoy the outdoors while exploring the sights of your new city. The more you discover in your new surroundings, the more fun it will be to walk around and see new things.
Hold yourself accountable. In many cases, accountability is the key to establishing a sustained exercise regime. If you struggle to commit to a workout routine on your own, consider finding a friend or workout buddy who will hold you accountable. With virtual platforms like Skype, you can even hire a trainer to train you right from your living room! Involving a close friend or trainer in your workouts will keep you on track, so you don't slack off or become unmotivated.
Making fitness a top priority is important for your mental and physical health, especially when you're on the road. By planning and effectively managing your time, you can develop a workout routine that fits best with your schedule and lifestyle.
Looking to take on new locum tenens jobs in the new year?
Start exploring new locum tenens opportunities today with MPLT Healthcare!