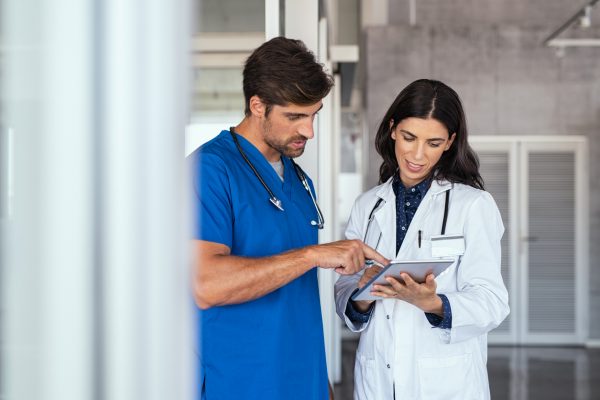 Is your healthcare facility in the process of hiring locum tenens providers? In addition to finding the best locum tenens physicians and advanced practice providers for your facility, your onboarding process is important for ensuring a successful transition for both providers and your full-time staff. As you welcome new locum tenens providers to your team, here are some onboarding tips to keep in mind:
Implement comprehensive training
Any onboarding program should include comprehensive onsite training in which your new providers are fully introduced to important aspects of your facility, and specifically, their assigned team and medical unit. Training can be facilitated both as in-person instruction or virtually (such as in the form of videos) to educate locum tenens providers about your facility's policies and protocols, as well as outline what they can expect from your organization's culture and overall management. This can also include getting new providers up to speed on your facility's EMR and other tools that might differ from their previous experience. Trainings provided upon the start of providers' assignments will give them an in-depth overview of your facility, helping them feel more confident starting their job and allowing them to integrate better with your staff.
Establish key points of contact
When new locum tenens providers begin working within your facility, it's critical they know who to turn to with questions or concerns. Establishing formal points of contact for your providers will help them acclimate with your team and feel comfortable going to designated contacts for help or guidance. Making these introductions immediately is key for ensuring open communication between providers and their managers, as well as helping the team establish trust.
Promote collaboration
As your locum tenens providers begin working, it's important to promote a sense of collaboration and camaraderie among every member of your team. Whether it's organizing monthly team lunches or scheduling weekly huddle meetings, providing outlets for your providers to build stronger relationships with all staff will ultimately improve patient care outcomes in the long run. Including your locum tenens providers in these activities is a great way to help them mesh with your permanent staff and make your locum providers feel welcome at your facility.
Being proactive with the practices above can positively impact your locum tenens' providers experience working at your facility, as well as future recruitment and staff retention.
We Can Help with Your Coverage Needs
Are you looking for locum tenens providers to help with your facility's coverage? Contact MPLT Healthcare and learn how a partnership with our staffing firm can help you find top locum tenens talent.