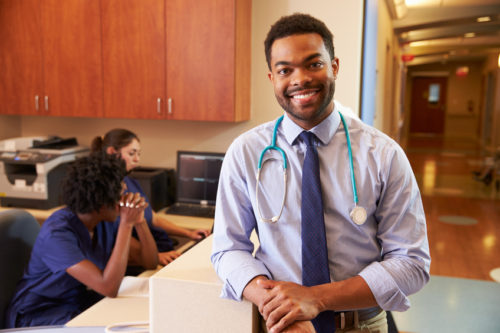 With increasing budget cuts and greater staffing demands at healthcare facilities across the U.S., many organizations have begun to look into the benefits of adding hospitalists to their team. If your organization is undergoing many staffing changes or experiencing growing patient demands, it may be time to explore how a locum tenens hospitalist can improve your organization's operations, productivity and bottom line.
Here are some of the ways your facility will improve with a hospitalist can improve your facility:
Greater patient satisfaction. As your facility increases patient capacity, a hospitalist can help you continue meeting patient demands most efficiently by reducing patients' length of stay and filling in staffing gaps. In addition to increasing productivity, hospitalists deliver specialized expertise and training, providing a detailed level of care to patients under their supervision. Hospitalists also work closely with your facility's physicians to put forward the best treatment plans for patients, working in tandem with providers on ensuring the most favorable outcomes. Furthermore, your hospitalist will likely be available around the clock, being able to fill in during understaffed shifts as needed.
Fast and efficient onboarding. Hiring a locum tenens hospitalist is one of the easiest ways to ensure a smooth transition to a physician who will already be a fit for your organization's needs. This is because your locum tenens agency will have identified a hospitalist with the right qualifications required for your hospital's practice, goals and objectives. Having this alignment will eliminate the need for extensive training or onboarding, as your hospitalist will quickly be able to immerse themselves in your facility. This rapid transition means your hospitalist can apply their medical expertise to your facility without a long ramp-up period.
Cost-effective staffing. Rather than a permanent, full-time physician, a locum tenens hospitalist is a cost-effective option for delivering the exact same patient care support. This can provide a huge financial value to your facility, saving hundreds of thousands of dollars in labor costs, especially during peak season. Furthermore, a hospitalist can help control costs, discharging patients at a quicker rate and increasing efficiency.
For these reasons, among many others, a hospitalist can dramatically improve your facility operationally and financially. Most importantly, bringing a hospitalist on board will elevate the quality of patient care, having a positive impact on your organization's reputation at large.
Looking to add a hospitalist to your team?
Get in touch with MPLT Healthcare today and let us help you find top locum tenens talent.