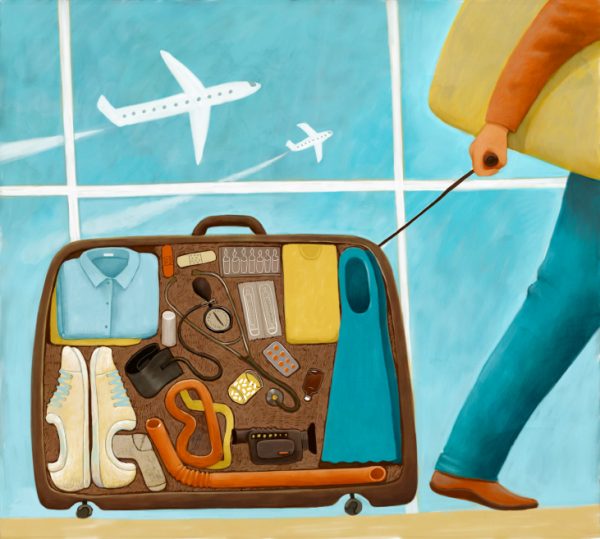 Gearing up for your first travel locum tenens placement? If you're like many locum tenens first-timers, you may have discovered that landing your first assignment is just the beginning. Now, you're likely finding yourself faced with the task of preparing for what lies ahead – including navigating travel logistics, housing and your new facility. Unsure of exactly what to pack while on the road for the next few months? We've got you covered! Here's a round-up of some of the essential items for any locum tenens placement:
Required
 document
ation
.
Though gathering paperwork and documentation certainly isn't the most exciting part about preparing for a locum tenens assignment, it is essential for ensuring a smooth transition to your new destination. Depending on your travel arrangements, you may need to gather one or more of the following documents: photo ID, boarding pass, credentialing documents, driving directions, vehicle rental information, and housing/hotel accommodations. Additionally, it's important to have your recruiter's contact information on hand, as well as any details pertaining to your assignment – such as the facility's contact information and parking specifics.
Travel essentials
.
Just as you would pack your essentials for a vacation, a locum tenens assignment is no exception! While you'll likely have access to various stores and pharmacies once you arrive to your assignment, preparing a bag of "travel essentials" – including personal hygiene items, toiletries, medications, phone and computer chargers – will save you a lot of time and aggravation. By having this bag of "to-go" items organized and on hand, you'll guarantee that your personal needs will be met on the road, even if anything unexpected arises during your travels.
Some personal items
.
While you may not deem your favorite pillow or houseplant a necessity, having some elements of home can make you feel more at ease while transitioning into a new living space. Packing a few personal items – especially if you're traveling far – can be comforting when embarking on a new assignment away from family and friends. Many locum tenens professionals find that bringing along some comforts of home such as a comfy blanket or a few books help them better acclimate to their new surroundings while reducing feelings of homesickness.
Packing for a locum tenens assignment can seem daunting the first few times; however, the process becomes easier as you get used to doing travel assignments. Before you know it, you'll be a pro at getting ready for all your locum tenens jobs!
Ready to explore new locum tenens opportunities? Learn how MPLT Healthcare can help you land your next position.