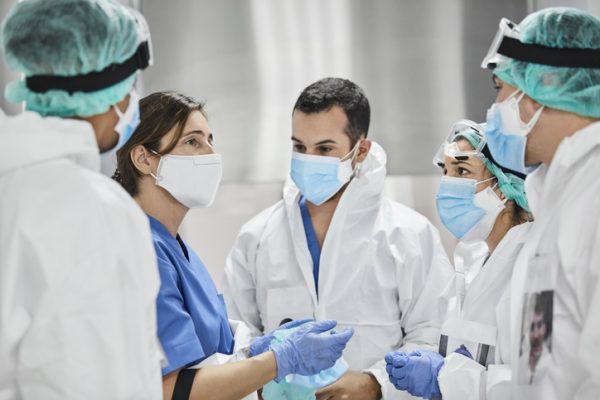 Over the past several months, there's no denying that the COVID-19 pandemic has left even the most robust healthcare facilities understaffed and in many cases scrambling to keep up with growing patient care demands as the virus continues spreading throughout the U.S. Now, as the cold months set in, the combination of the flu and COVID-19 – becoming known as the "twindemic"- has resulted in the need for many facilities to proactively equip their intensive care units for a projected flood of flu and coronavirus cases.
If your healthcare organization is gearing up for the multitude of challenges that lie ahead, here are some ways to equip your ICU:  
Establish 
strict guidelines and 
protocols
.
To address a potentially high number of flu and COVID-19 cases, facilities must develop strict internal protocols so that care can be delivered in each patients' best interest. For instance, some hospitals are opting to treat flu patients and COVID-19 patients in completely different parts of their ICU. Additionally, there must be protocols established for staff pertaining to both illnesses. These guidelines may require that all staff be regularly tested for COVID-19 and require all medical providers to get the flu shot.
Evaluate 
facility 
resources
.
When it comes to ICU care, facilities must have enough beds, ventilators and PPE gear to handle COVID-19 cases for the safety of both staff and other patients in the hospital. It's best for facilities to fully evaluate their current resources and make arrangements for more medical equipment as possible. Additionally, it's critical that facilities have direct access to COVID-19 tests, as a lack of testing can make patient care extremely problematic – especially for patients experiencing severe symptoms who haven't received a formal medical diagnosis of contracting the virus.
Partner with a specialized
 locum tenens
 firm
.
As hospitals' staffing needs become greater by the day, locum tenens firms can significantly help facilities maintain proper staffing levels. By partnering with a locum tenens agency that specializing in rapid healthcare staffing, facilities can gain the support needed to recruit physicians – especially providers who practice pulmonary critical care medicine – in the timeliest way possible. This type of support can often make or break how efficiently a hospital is able to handle an influx of cases, having a direct impact on flu and COVID-19 patient outcomes.
Facilities that adhere to the practices above will reduce strain on their ICU as a surge in flu and COVID-19 cases take place over winter months. Through the practices above, facilities can prepare for the worst while continuing to deliver the most optimal patient care.
Need help with coverage?
Is your facility prepared for the twindemic? Get in touch with MPLT Healthcare and learn how our team can provide locum tenens support during this challenging time.