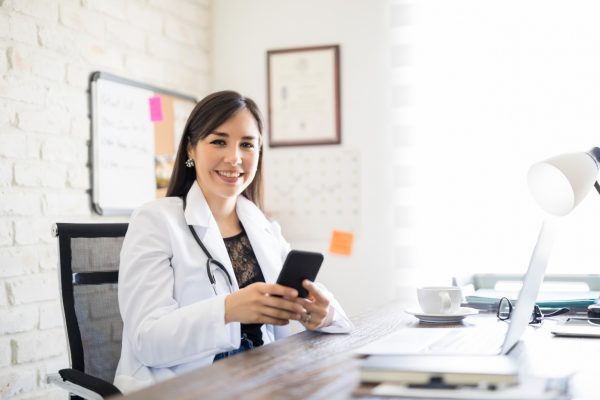 Do you make new year's resolutions? As the year gets underway, it's not too late to set goals and make professional resolutions to grow your healthcare career. From earning increased pay to making yourself a more competitive candidate, there are many steps you can take to advance in the locum tenens field. Now, with demand for locum tenens providers greater than ever due to the COVID-19 pandemic, there's never been a better time to invest in yourself and seek new opportunities. If you're aiming to advance your career through locum tenens work in the new year, here are three types of resolutions you may want to consider:
Keeping track of referrals and growing your network. One of the most underrated benefits of locum tenens assignments is the ability to work with many professionals who may become potential referrals as you seek future employment. Keeping track of referrals as you navigate your assignments throughout the year will allow you to grow a high-quality professional network – something that can be invaluable as you grow your career through further locum tenens work or seek a permanent position at a healthcare facility. By making an effort to maintain communication with your referrals and continually grow your database of contacts, you'll set yourself up for success in the application and interview process.
Broadening your experience. From bustling urban areas to rural communities, there are countless locum tenens opportunities to explore. Suppose you've primarily stuck to taking assignments in one city or a certain part of the country. In that case, 2021 may be the ideal time to expand your horizons and gain deeper experience in a wider variety of healthcare facilities. This is especially important if you're hoping to become a more competitive candidate in the locum tenens talent pool and develop a wide-ranging foundation of skills. Having broader experience to showcase on your resume will also demonstrate to employers that you're adaptable and able to thrive in a variety of healthcare settings, indicating strong teamwork and communication abilities.
Connecting work with your lifestyle. Many professionals choose locum tenens work because they crave more independence and flexibility in their personal lives. Taking some time to reflect on how you can achieve a better work-life balance can be instrumental in making your locum tenens career more conducive to your lifestyle. For example, if you enjoy taking your summers off to vacation with your family, you may want to plan on primarily seeking locum tenens jobs during other times of the year. Thinking closely about how you can better manage your locum tenens work with your personal life can provide greater career satisfaction and make you more well-rounded in the process.
These are just some of the types of resolutions to keep in mind as you think about your goals for 2021. What's most important is that you establish new year's resolutions that foster professional growth and development and ultimately improve your quality of life.
Looking for the right locum tenens assignments for your career?
Get in touch with our team today to learn how the experts at MPLT Healthcare can help you find new locum tenens opportunities.