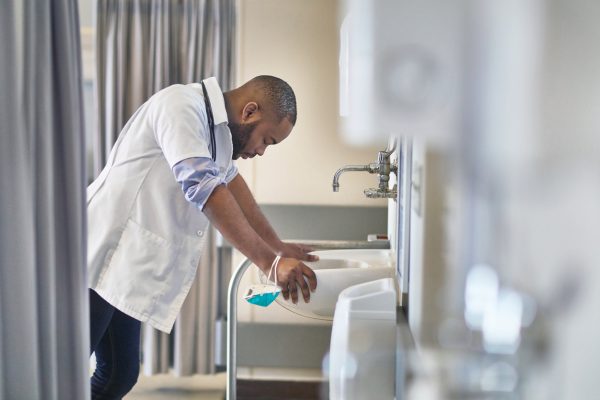 The ongoing coronavirus pandemic is exacting a high toll throughout our country in many ways. As you know, one of the groups most deeply affected by it is our healthcare workers. Those on the frontlines of patient care are especially at risk for not only coronavirus exposure, but stress, depression, PTSD, and burnout or moral injury related to their work. How can you support your medical staff through all of this during a time when you need them more than ever? Here are some of the things your facility can do to help your frontline workers.
Listen to your staff and acknowledge what's going on.
First and foremost, you need to listen to what your staff have to say. Do they need more equipment? More staff? Changes to systems or workflows? Listen to what they are saying and watch for signs of what they are not saying, but where you could improve things. Clinicians are being pushed to the brink in many areas right now, some having to make unspeakable choices, and all are facing the potential of losing patients to this disease. They are providing this care at great personal risk to themselves and their families, so lend an empathetic ear to their troubles and do your best to help where you can. Sometimes it's difficult when you know there is a need you can't fill, such as a shortage of PPE, but being there for your staff and giving them a chance to tell you what they are going through is important for getting through this. If you can ease their work in other ways, take that opportunity and do your best for them so they can do their best for your patients.
Maintain counseling and debriefing options.
Our physician workforce was already facing an unprecedented shortage before this all began, and the crisis caused by the pandemic has only exacerbated it. Clinicians are experiencing the effects of this firsthand and it is just one of the major stressors they are facing right now. Does your facility or healthcare system offer counseling options that allow your staff to get support, even after hours? Do schedules allow time for debriefing after a hard day or a particularly rough case? These are things to consider in order to maintain your staff members' wellbeing. They are humans too and it's important to give them every opportunity to heal after dealing with these extraordinary circumstances. Caregivers in crisis situations are particularly susceptible to burnout and it is of the utmost important to safeguard the health of our essential providers, both physically and mentally. Carving out time for wellness and mindfulness amid the hustle of the day can help your staff take a breather before heading back into the fray.
Get help maintaining staffing levels.
Healthcare providers have been heeding the call for help throughout the U.S., coming out of retirement, stepping up recently out of school, and taking on duties that normally fall outside of their purview. With emergency licensure options available in many states, it is possible to receive help from new sources as the need arises. Accept the help that is being offered by utilizing these resources and by drafting in locum tenens providers to supplement your medical staff. These clinicians are ready and waiting to assist with needs throughout the country and are willing to travel to help.
Do you need help finding staff right now?
MPLT Healthcare is here to help. We have put together a specialized Rapid Response Team to assist with priority needs related to the COVID-19 crisis. Email us today at [email protected], call our toll-free number at 866.346.6758, or use our contact form to tell us about your coverage needs.