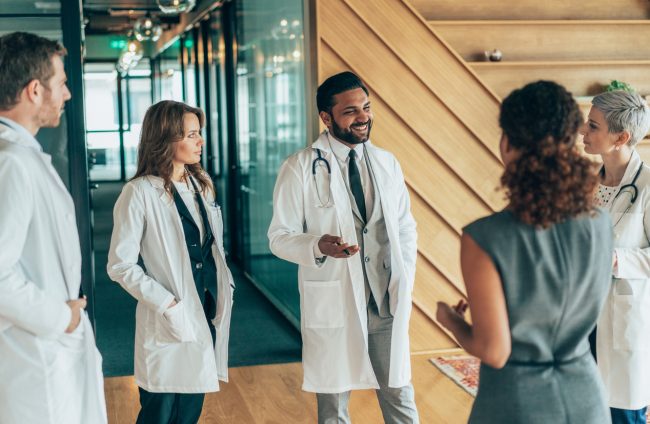 Is your healthcare facility struggling to attract and recruit qualified locum tenens physicians? Pursuing a partnership with a locum tenens agency can offer your organization multiple advantages not only for finding the best talent on the market, but also reducing operational costs and maintaining the best patient care.
Here are some reasons to consider using a staffing firm in your search for locum tenens physicians:
Access to more talent
A staffing firm can significantly expand your reach to a greater pool of locum tenens talent, especially as your organization's staffing needs change rapidly. Access to a nationwide network of qualified candidates that extends far beyond your vicinity will result in more efficient and effective hiring. Because staffing firms are equipped with the most advanced recruiting tools and resources, they can tap into diverse candidate networks to vet only the best providers for their clients' staffing needs.
Streamlined recruiting and onboarding
If finding the right locum tenens physicians has proven to be burdensome and costly for your facility, a staffing firm can be instrumental in facilitating this process. Alleviating your internal team of the burden of an extended talent search, your staffing firm will take care of finding and preparing locum tenens providers for their assignments to ensure a smooth transition. From screening interviews and finalizing new hire paperwork, to educating new staff about your facility's policies and protocols, your locum tenens providers will know what to expect upon starting their jobs.
Improved bottom line
The cost-savings that results from utilizing a trusted locum tenens staffing firm's services can be a tremendous asset to your organization's bottom line. From reduced recruitment costs to improved staff retention, many organizations benefit from both direct and indirect savings. Direct savings are those associated with the elimination of recruitment expenses, such as job advertisements or career fair fees. Indirect savings are related to the costs incurred from understaffing, such as burnout of full-time providers or longer patient wait times. Sourcing locum tenens providers through a staffing firm can significantly minimize these negative effects and improve the overall financial health of your facility.
Making the decision to use a specialized locum tenens agency can be one of the most important steps you take to elevate your organization's workforce and culture.